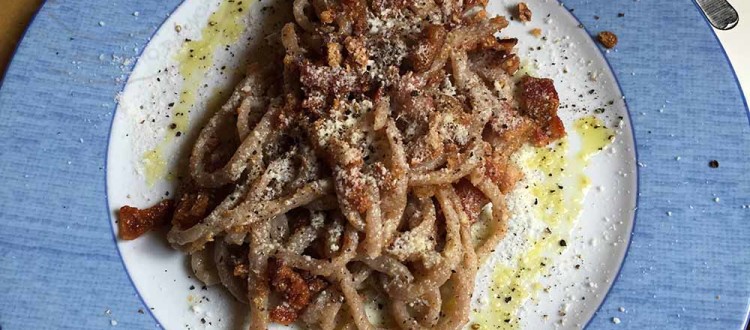 La Locanda by Perfect Traveller
This place is a great find where you can eat delicious Tuscan food that is not compromised by tourism.
I hadn't been out to lunch on a Sunday for a long time and decided to drive deep into the hinterland of Tuscany away from the crowds creating their usual din at places like Pienza, Cortona and Montepulciano. This day I just turned the car in the direction of the Abbey of Monte Oliveto Maggiore and stopped at little Castelmuzio. The place is the size of a postage stamp with little to no tourism and the locals like it like that.
Its lunchtime and I know I will find something here in this delightful village. In all the years I've spent in Italy I've always relied on stubborn good luck and what my Italian friends call "un bel culo" when it comes to finding good places to eat at without knowing what to expect, as was the case when visiting Castelmuzio; and today was no exception. In fact as it turned out and unbeknown to me I discovered an absolute gem of a place where the food is simply delicious.
Locanda di Casal Mustia sneaks up on you because there is only very discreet signage to inform you of its presence and in such a perfect Tuscan village as this one subtle and discreet is part of its charm. I entered a busy bar with some locals loitering around the café machine and was told I could sit outside or upstairs. Rising to the sense of adventure I said upstairs where on the first floor I entered a charming dining room highlighted with primary colours and simple furniture. I like chatting to strangers and struck up a conversation with a lady who was adjusting the curtains only to discover she was the owner of the locanda. Paola Bagnoli, with a little prodding from me told me how she found this little hotel of only a few rooms (locanda means Inn in English) several years ago and decided to "give it a go" declaring for her this was the most beautiful part of Tuscany.
Her daughter Elena, like her mother is a ball of energy working the restaurant, upstairs and down and is equally proud of what they have created. Four years ago Paola invited her friend Giulia to leave Siena and cook with her at Casal Mustia and that has led to some of the best food I have eaten in Italy for a very long time. Nicole served me and brought to the table some of their house red which coming from Montalcino was very good; a deep ruby colour that with a classic peppery fullness in the mouth went down very smoothly. This place had my attention. For a first course I decided upon the Soufflé of potatoe and saffron with a pecorino cream cheese sauce while my friend had the marinated anchovies with toast. Both dishes were simple with sensational flavours that declared the locanda as something special.
I followed up my Soufflé with a plate of picci; as many of you know this local pasta is well known in this part of southern Tuscany but I never had this picci dish before. Firstly the picci itself was delicious and I do not like stodge but I found the picci here to be light and cooked to perfection. Now picture your humble picci pasta in a sauce made of crispy bacon, pepper, olive oil, pecorino cheese and toasted breadcrumbs which is what I was served and it was spectacular and filling. My friend had the perfectly made Zuppa di Ferro with homemade pasta pieces and a spice that still eludes me; a little cinnamon perhaps?
I sat back in my chair deciding in my head will I or won't I write about this place for Perfect Traveller only to have every man and his dog "invade" the place; I've seen what popularity can do in nearby Pienza! When I spoke to Paola about my dilemma she declared that her small hotel and restaurant would never change and there was no space for busloads of tourists at Castelmuzio. Besides she added Giulia would refuse point blank to be rushed in the kitchen and be made to "churn out" fifty plates of yuk masquerading as Tuscan cooking.
So here I am writing about this wonderful place which I hope you get to visit and enjoy one day. Oh did I mention the deserts; all made in-house so I went for the tiramisu having tried this dish all over the place in Italy and deciding recently will I ever bother again. Yes is the answer to that, if I eat it here at Locanda di Casal Mustia. It was excellent and a special mention to the humble short-black to finish off a memorable meal.
Source: http://perfectraveller.com/locanda-di-casal-mustia/